slaapkop
Komt het door de lucht, door de relatieve hoogte, door de vele nieuwe indrukken of word ik gewoon oud? Maar 's avonds na het eten, opruimen en het lezen met de kids, krijg ik de 'klop van den hamer' en val ik pardoes in slaap, waar ik op dat moment ook mag zitten of liggen.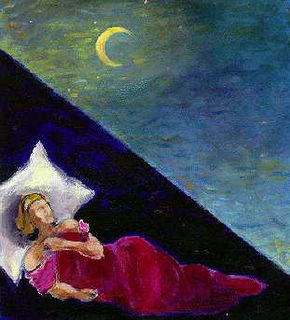 Zoals gisteren, mijn wildste plannen om de site eens te updaten, smelten als sneeuw voor de zon als ik om 9 u 's avonds nog amper tot boven geraak om met slaapogen mijn tanden te poetsen, mijn volle bewustzijn is reeds verdwenen bij het onder de 'wol' kruipen, laat ik me in mijn roes wegglijden, dan
ben ik volledig van de wereld
en word ik 's morgens met dichtgeplakte ogen wakker. Als ik dan in vroegere tijden steeds als eerste uit bed was, ben ik nu bij de laatste, mijn lichaam ontwaakt in alle traagheid. Gelukkig helpt een verfissende douche me dan steeds tot ontwaken, een dochter die al ijverig de vaatwas heeft geleegd en de tafel gedekt en een echtgenoot die al heerlijk ruikende koffie heeft gezet.
Wat kan het leven toch heerlijk zijn om door die lieve schatten omringd te zijn.